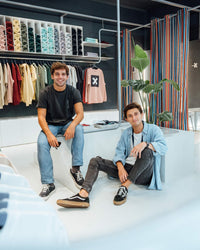 WELCOME TO THE NEW ADVENTURE
Blue Banana was born in 2016 as an online brand made to inspire new generations to make their lives an adventure. We gradually grew in the virtual world and in 2020 we stepped (or took the big leap) into the physical world, all for you to experience firsthand and right on the street the universe that we created for you.
Our stores aren't just a place where you can see and buy our most iconic products, new collections and all our accessories, but a space that will inspire you, where you can be part of one of our journeys and adventures and experience the realness of all our values.
San Sebastián de los Reyes The Style Outlets
Mondays to Sundays: 10:00 to 22:00
C/ Salvador de Madariaga, s/n 28702